Free No-Obligation Consultation
If you would like to schedule a
FREE, no-obligation personal consultation
, please complete the questionnaire on our
Contact Us
page.
Why gold may hit $1,500 by year's end—and it's not just about Brexit – MarketWatch
Free No-Obligation Consultation
If you would like to schedule a
FREE, no-obligation personal consultation
, please complete the questionnaire on our
Contact Us
page.
Now Available
The ABCs of Long Term Care Insurance
- PLUS -
Protecting Your Family
With Long-Term Care Insurance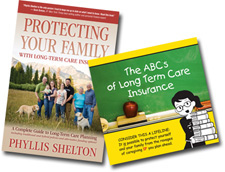 GET BOTH BOOKS for only $29.95!

Latest Tweets
Phyllis's Podcast Corner
Sign Up for Updates
Archives
June 2021
S
M
T
W
T
F
S
1
2
3
4
5
6
7
8
9
10
11
12
13
14
15
16
17
18
19
20
21
22
23
24
25
26
27
28
29
30